Six Dogs & Cats Costume Ideas
We humans aren't the only ones who love attention and dressing up. Our fur babies, especially cats, love grooming and affection just as much as us, if not more. Correct us if we are wrong, but isn't Halloween around the corner? Hmm, with the global pandemic going on, it's clear that no one's throwing any spooky parties anytime soon. However, that doesn't stop us from celebrating it with our pets. Here's a list of the top 6 costume ideas for pets that you can easily recreate for any occasion, not just Halloween costumes. Without further adieu, let's dive right in.
Witches & Wizards
There's absolutely no reason to NOT dress your fur baby as a witch or wizard. Be it Harry Potter or Oz The Great and Powerful, our childhood was built on those beautiful movies. What can be better than celebrating those moments with your cats and dogs? Moreover, think about all the fun(and trouble) you'll have while making the costume and dressing your pet.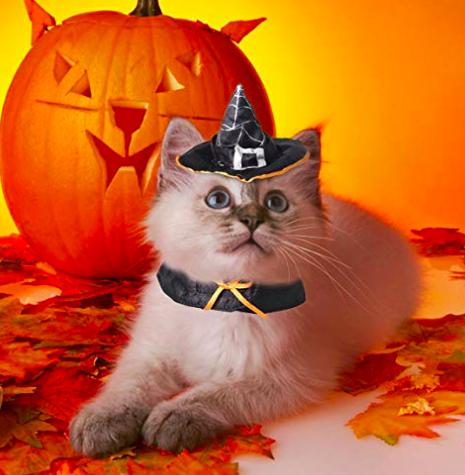 Animal Costumes
Ever imagined your cat wearing a sheep costume? That does paint a hilarious image, doesn't it? You can decide what animal you want your cat or dog to dress and either make one from scratch as DIY or buy from amazon. The idea is to enjoy the process with your pet.
Veggies, Flowers, and Fruits
If you would prefer a simple and more uncomplicated outfit, then you can always go for fruits. They are more obtainable and straightforward yet give off a creative vibe. Some of the popular fruits and flowers that people go for are tomatoes, strawberry, sunflowers, and, of course, the classic pumpkin look. But you can go as crazy as you would like since, in the end, they are bound to look adorable no matter what you put them in.
Hoodies and Jackets
If you aren't able to get the above costumes, here's something that you can get at any pet store or amazon. Hoodies or jackets are readily available and manage to maintain the whole dressing up look without you breaking a sweat. You could also do a DIY project out of your old hoodies or jackets.
Pirates
Have you watched the Pirates of The Caribbean Sea? If yes, we are just going to assume you love our good ole' Captain Jack. I mean, how can you not? Can you recreate his iconic look for your pet? Well, getting the supplies will take a few errands, but the results will be worth it, and you know it.
Royalty
Our pets are no less than royalties. So why not dress them like one? These sorts of supplies are easily obtainable in any costume shop as they are commonly used. Do you know we make custom canvas pet portraits at great prices? Check out our collection here.
In the end, be it a photoshoot or a Halloween celebration, the most important thing is to have fun. Who cares whether you are doing a professional shoot or just playing with your fur baby? Dress them up as you want; these are only a few references to get you started. We hope you get the costumes you wish to and can sneak in a few pictures if the furry highnesses allow you to, that is! Good luck to you and whoever else is tagging along with you on this adventure 😉.